Catching magnons!
This project received funding from the Fonds zur Förderung der wissenschaftlichen Forschung (FWF) under the Wissenschaftskommunikations-Programm (Project number WKP 166)
Duration: 01.03.2022– 28.02.2023
Project coordination: Pedro del Real Lavergne, Univ.-Prof. Dr. Andrii Chumak (group leader)
Scientific collaborators: Dr. Qi Wang (postdoc), Noura Zenbaa (PhD student), Dr. Sebastian Knauer (postdoc)
Artistic collaborators: Fabian Lang (art director), Ulrich Fey (illustration), Danjel Beljan (technical implementation), Bernd Ammann (soundtrack)
About the project
About the project
The webcomic "Catching magnons" attempts to portray the multifaceted reality of experimental research. Our goal is to convey both conceptual and practical information around the work of researchers in the field of magnetism through an interactive narrative experience. Through four interconnected stories, readers are introduced to the core concepts of nanomagnetism and magnonics. Readers learn how experiments are conducted and about scientific processes.

This interactive webcomic offers an innovative and motivating approach to science. Thanks to an additional layer to the story, which integrates interactive media aspects such as mini-games or animations, we encourage an active participation of the reader. The comic focuses on the process and people around science, trying to show in a fun and relatable way how science works.

The comic aims to reach a broad audience and is designed to be mobile-first, thus facilitating its reachability by a younger public. The collaboration between experts in the field and experts in media communication brings the best of both worlds into the final story: a realistic view on science, attractive design and a compelling narrative.


The project in numbers
227

drawn pages for the storyboard.

4

main characters: Andrii Chumak (head of the AG), Qi Wang (postdoc), Noura Zenbaa (PhD student) and Pedro del Real (co-author of the comic).

3

mini-games: "Create waves", "Understand black box" and "Repair laser".

13

accessible external resources.

21

minutes: average reading time in beta tests.

5

hours and

3

minutes of recorded interviews with scientists.
Related activities & press
Catching Magnons: Ein Blick in die Wissenschaft vom Handy

(workshop for teachers around comics and science communication in the classroom on February 2023)

Wir fangen Wissenschaft

(article at Rudolphina on July 2023)
Web-Comic "Wir fangen Magnonen" (comic in the tool-kit of the "NÖ Lernwerkstatt")
Work in progress: a gallery
Mobile first
When deciding how to present our comic, we thought about how people consume information nowadays. With this in mind, the comic is optimized to be read on mobile devices. It will be very easy to access it: go to the website and the adventure will just start. Moreover, this will not affect the desktop reading eyperience, which is presented on a horizontal format.
This also takes into consideration the reading behavior of younger audiences, who are natives to the scrolling of information on a screen. The fact that the comic is a website and not an app also makes its access easier, eliminating the step of downloading an application to experience the comic.
Our objective is for everyone to catch magnons everywhere!
Hybrid format: the evolution of a medium?
Traditionally, comics have been created through images and text. What makes the art form unique is the possibility of endlessly combining those in a narration. Although panels dote the medium of movement, this is reflected through standstills. The production of a comic for a digital medium opens the door to an even bigger hybridization of an already hybrid-born art.

As a digital-first comic, we conceptualized "Catching magnons!" as a sandbox to experiment with the possibilities of this medium. Some of our ideas came from consolidated practices in digital comics, such as the one vertical panel reading experience used in many e-comic platforms. Others tried to add features that are not possible on paper, such as animations, games, or sounds.

Animations are used to help readers understand important concepts, like the visualization of a spin wave you can see on your right. Another use of animations is to highlight movement or add an unexpected element to the narration. Moving images help both the narrative and the overall aesthetic of the comic.

Games were conceived with the idea of helping readers understand some basic concepts mentioned in the comic. The first game is meant to show two basic characteristics of waves: their frequency and amplitude. Another approach was taken with the game about inverse design, in which we oversimplified the idea behind this method to discuss the concept "black box". In the laser game, readers can participate in the calibration of the laser running on an optical table, which puts the focus on the process of building an experiment.

Sounds give richness to the reading experience. They help mark changes in topic and narrative technique, or highlight a critical moment. We aimed to offer a completely immersive reading experience, and without a soundtrack, that would have not been possible.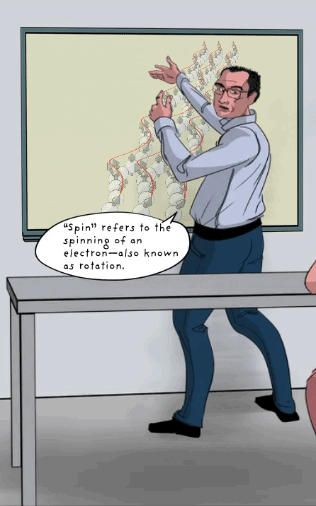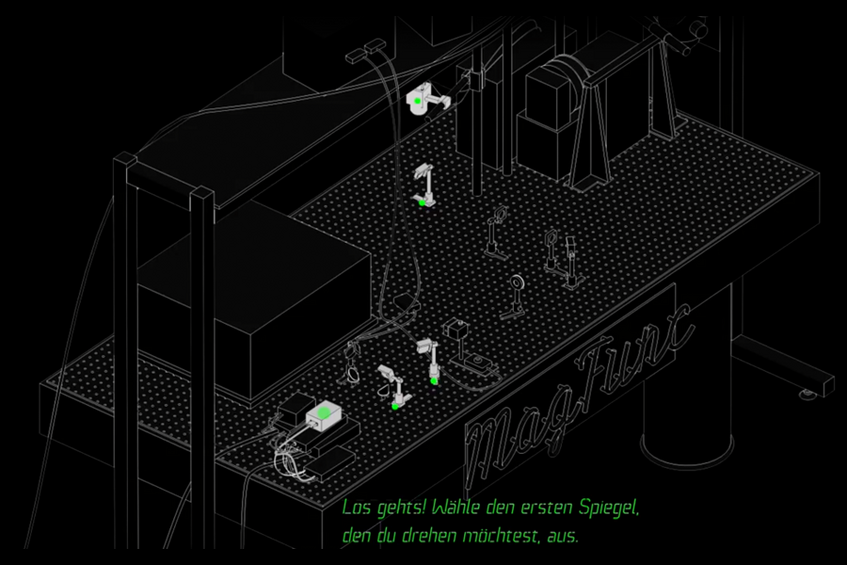 A team project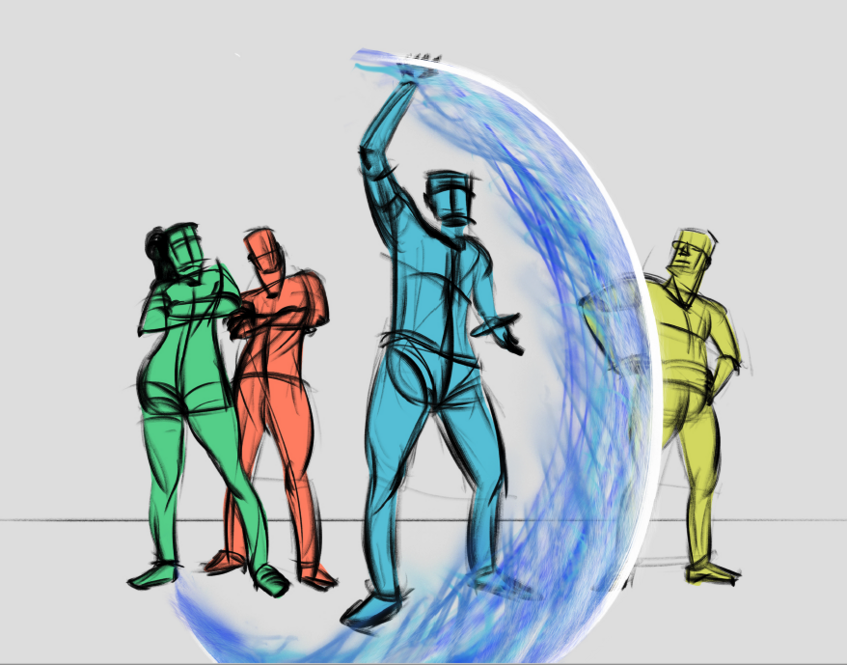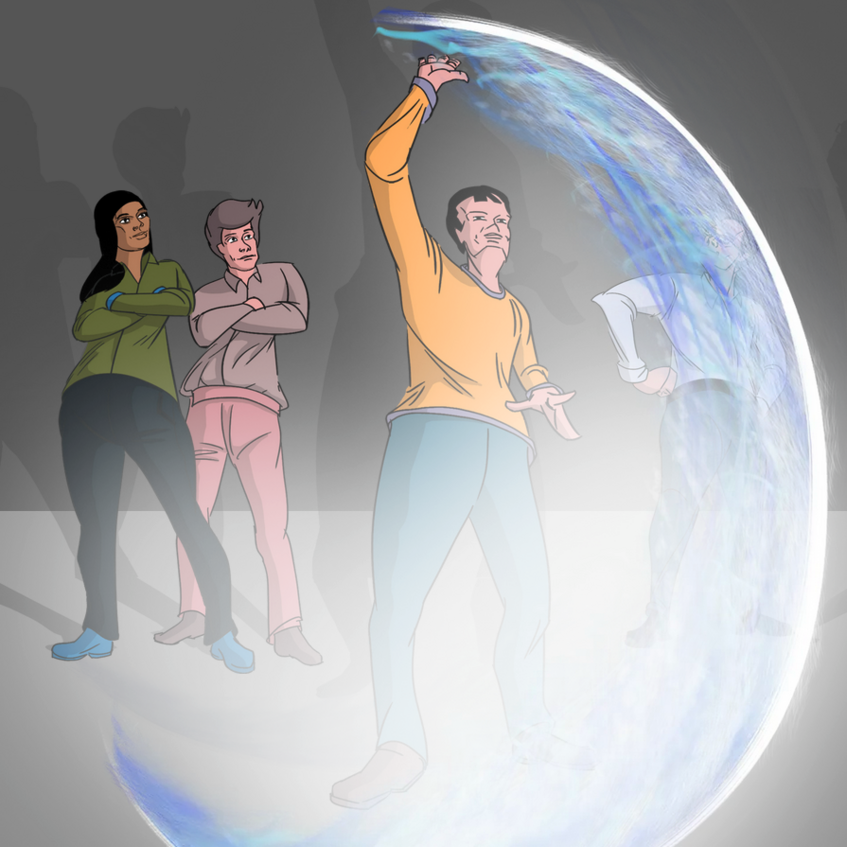 The Austrian-French collaborative project "MagFunc" is the frame from which "We catch magnons" has been developed. This idea of teamwork has also been translated to how the comic is being made.

Already in the project writing phase, it was clear for us that we needed a varied team to showcase how research is done. On the one hand, Andrii, Qi and Noura offered their scientific guidance, experience and themselves as characters, to explain science and its processes from a realistic –even autobiographical– perspective. On the other hand, we found a professional and motivated team of creatives to transfer what the scientists had to tell us into an attractive and innovative format. Pedro and Fabian started with the script. From there, Fabian, as art director and Uli, with his drawings and animations, have created a beautiful comic–the images in this section are from it! This is the base from which Danjel is developed the web and Bernd created the soundtrack.

All in all, the project has been a true collaborative endeavor, in which all the parts are giving their best to create a true new way of telling science.