Nano-scale magnonic circuits for novel computing systems (ERC StG "MagnonCircuits")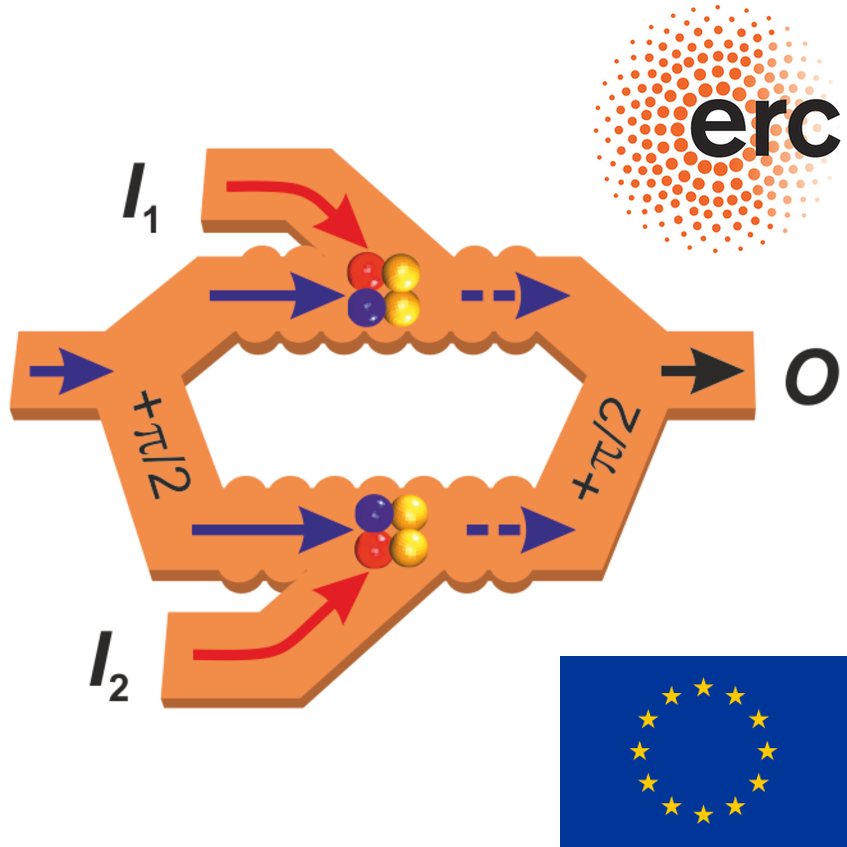 Magnons – quanta of spin waves – propagating in magnetic materials having nano-scale wavelengths and carrying information in the form of a spin angular momentum, can be used as data carriers in next-generation nano-sized low-loss information processing systems. The low losses of magnonic systems can be reached due to the absence of translational electron motion associated with Joule heating and extremely low magnetic damping in the dielectric Yttrium-Iron-Garnet (YIG) material used.
The recent revolutionary progress in the growth of high-quality YIG films with nanometer thickness, and in the patterning of these films, opened a way to the practical development of nano-scale magnonic computing systems. However, the decrease in sizes of YIG structures to sub-100 nm requires the development of the physical knowledge base for understanding linear and nonlinear magnetization dynamics in nanostructures. The strategic goal of the proposed MagnonCircuits research program is to make a transformative change in the data processing paradigm from traditional electronics to magnon spintronics.
Project publications
Submitted articles
Long-range spin-wave propagation in transversely magnetized nano-scaled conduits


B. Heinz, Q. Wang, M. Schneider, E. Weiß, A. Lentfert, B. Lägel, T. Brächer, C. Dubs, O. V. Dobrovolskiy, P. Pirro, A. V. Chumak
arXiv:2101.10192

Inverse-design magnonic devices


Q. Wang, A.V. Chumak, P. Pirro
arXiv:2012.04544
Published book chapters
Magnon spintronics: Fundamentals of magnon-based computing


A. V. Chumak
In: Spintronics Handbook: Spin Transport and Magnetism, Second Edition, edited by E. Y. Tsymbal and I. Žutić (CRC Press, Boca Raton, Florida), 2019
arXiv:1901.08934
Articles in press
Controlling of nonlinear relaxation of quantized magnons in nano-devices


M. Mohseni, Q. Wang, B. Heinz, M. Kewenig, M. Schneider, F. Kohl, B. Lägel, C. Dubs, A. V. Chumak and P. Pirro
Phys. Rev. Lett. (in-press)
Published articles
Selected prior publications